A 4 Star Guest House in Rondebosch

Welcome to Oakvale Lodge
Oakvale Lodge, established in 1996, is a 4 Star Guest House in Rondebosch offering bed and breakfast accommodation to business and holiday travellers.
Oakvale Lodge Guest House - Cape Town - is a large family home in the heart of the Golden Mile in Rondebosch and offers guests true Home-from-Home accommodation for travellers to the "Mother City", in a comfortable and relaxed environment with personalised, friendly service provided by your hostess, Dalene du Plessis.
There are 4 friendly Westies on the property who welcome guests enthusiastically but are trained to not enter guest rooms. Additional filtered & treated borehole water supplements the municipal water supply to ensure a comfortable stay.
What to expect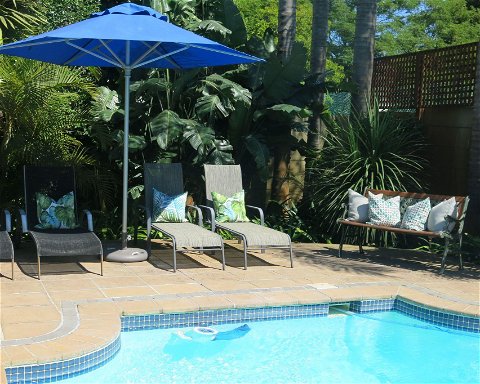 Spacious Gardens, Solar Power, Security and more
The beautifully maintained, spacious gardens of Oakvale Lodge Guest House provide spectacular views of world famous Table Mountain from the Devil's Peak side and the sparkling, salt water swimming pool is easily accessible from all the guest rooms.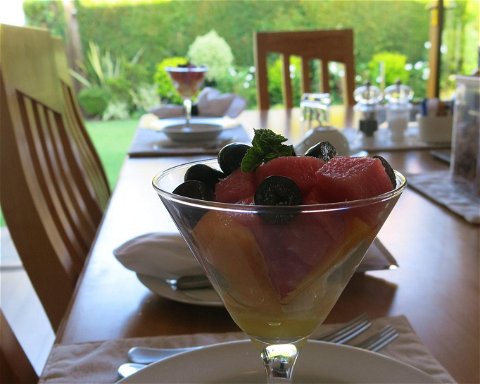 Central Location & Hearty Breakfast
We are ideally situated for easy access to the City Centre, UCT, major highways, Newlands rugby and cricket grounds, and many other popular tourist attractions including the Kirstenbosch Botanical garden. A Full English or Health Breakfast is served in the dining room. A health breakfast can be provided in the room for very early departures.
From our guests
Everything highly recommended.

A very stylish and comfortable lodge on beautiful grounds with a pool and beautiful garden loungers. We had the garden suite: very well equipped, small pantry, super comfortable bed and nice bathroom. Private small terrace with seating furniture. Very friendly hosts, really individual breakfast. Parking on the property.

We felt comfortable all around and would fully recommend this accommodation!

We were allowed to stay in the Garden Room, very quiet, large room with small kitchenette and seating. For 2 adults + 1 child (3 years) more than adequate! There was an excellent breakfast, the room service was great. High praise also to the well-behaved dogs, who you hear from time to time during the squirrel hunting, but who leave the guests alone!

Quiet, but yet centrally located!

Excellent place to stay for a city trip to Cape Town.

This is the absolute perfect place to stay

Breathtakingly gorgeous garden, safe parking, and the unit itself literally has everything you could need. It is stylish, comfortable and beautifully designed, with so many thoughtful touches. The breakfast was delicious!